I don't know if you can relate, but isn't it frustrating when you're up early to make the kids lunches and end up standing in front of the fridge and pantry and can't find anything for the lunch boxes!
I've recently started using Sunday afternoon as a cooking afternoon and prepare everything I need for easy mornings in the kitchen. I have the kids involved, and it really is a nice way to prepare both physically and mentally for the coming week. It has made such a difference to our morning routine and it gives me plenty of time in the mornings for sipping tea and chatting to the family. 🙂
Here are some ideas that I have used over past few weeks. I'd love to know what your ideas are too!
Cheese and ham scones – I package these separately and put into the freezer until the morning I need them.
Chocolate crackles (Sugar free) – Also freeze individually, so it's super easy to grab in the mornings.
Muffins – I made banana this week, but vary it each week depending on what the kids feel like or what's in the fruit bowl.
Mini Pizza –  I made 2 trays of these and then froze individually for a few lunches during the week. — Word of warning – If your kids are anything like mine, don't leave them too long on the bench cooling, or there won't be any left for later in the week!
Soup – I've been making chicken and noodle, and pumpkin recently. This makes for great little hot cups for lunch, and also healthy afternoon tea snacks.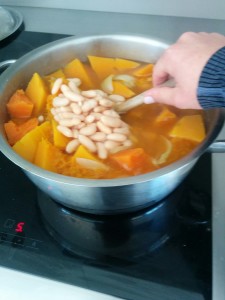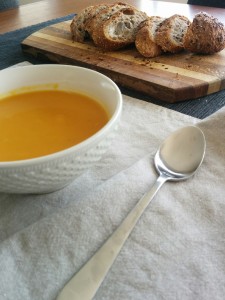 It's nothing too fancy, but just an hour or so of planning makes all the difference for simple, stress free living through the week.
Ham and Cheese Scones
2 cups flour
2 eggs
¾ c ham off the bone
½ c cheese
½ c corn
¾ c milk
3 tablespoons of butter
Place flour in a large bowl.
Rub butter into the flour until it looks like fine bread cumbs.
Add the grated cheese, corn and chopped ham
Add the milk and eggs to the mixture.
Turn mixture onto a board and knead lightly a few times.
Cut the mixture into rounds and bake on a greased baking tray for 10 minutes.
Chocolate Crackles – (recipe inspired from Sarah Wilson's recipe)
¾ cup coconut oil
2 tbs rice malt syrup
¼ cup raw cocoa powder
½ cup natural peanut butter
½ cup desiccated coconut
1 ½ cups puffed rice or I also use puffed buckwheat
Just melt the coconut oil, stir in rice malt syrup. Add cocoa and peanut butter. Mix well.
Add the coconut, and puffed rice. Mix well and spoon into little patty trays.
Pop into the fridge to set.