I've got a new recipe for you this week which I think you'll love.
It's a deliciously spiced, nutty and moist carrot cake.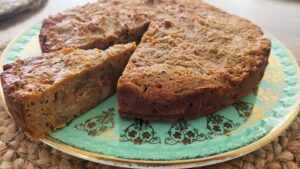 Here's the recipe.
Ingredients:
2 grated carrots
1/2 grated apple (leave the skin on)
1/2 cup coconut oil or butter (melted)
3 eggs, whisked
3 Tbs honey
1 tsp baking powder
1/2 cup tapioca flour
2 cups almond meal
1 cup chopped walnuts
3 tsp cinnamon
2 tsp ginger
1 tsp nutmeg
1 tsp cardamom
What to do:
Preheat the oven to 170 degrees. Line a round cake tin

Place all the dry ingredients in a bowl and mix.

Place the carrots, apple, coconut oil, eggs and honey in a bowl and mix to combine.

Mix the dry and wet ingredients together and combine.

Put the batter into the tin and bake for 40 minutes.
(I used cashew cream for the icing, because I already had some in the fridge, but it is also fab with a dollop of natural yogurt or just as it is.)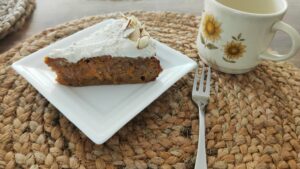 If you want more healthy recipes which taste amazing, our recipe book and healthy eating guide is available for $47

Click here to get your copy.