Are you a chocolate lover?
These chocolate cookies take 10 minutes to make and 10 minutes to bake!
You deserve to enjoy great tasting food and food that leaves you feeling nourished and good afterwards!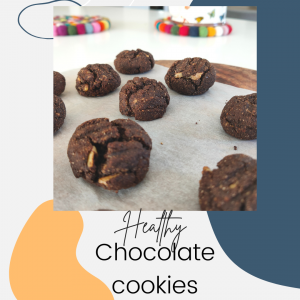 Here's the recipe:
Ingredients:
1/2 cup of coconut flour
1/3 of a cup of raw cacao powder
1 tsp baking powder
1 tbs cinnamon
pinch of salt
2 tbs. melted coconut oil
1 tbs honey
1/2 cup of nut butter
2 eggs
1/4 cup of your favourite nut – I used walnuts.. but I think hazelnuts would be nice!
What to Do:
1. Preheat your oven to 180 degrees
2. In a bowl, mix coconut flour, raw cacao powder, baking powder, cinnamon and salt.
3. Add the rest of the ingredients and mix.
4. Roll little spoonfuls of mixture into balls and place onto a lined baking tray.
5. Press each cookie down with a fork.
6. Bake for 10 minutes
That's it.
They barely made it to the cookie jar! We all ate them hot from the oven!