I'm here in the beautiful Rocky Mountains of Colorado on holidays with my family. We have loved seeing the mountains and wildlife. Yesterday we went into the National Park, and were lucky to see an elk, a glimpse of a moose, chipmunks and squirrels. We were very high, actually 12 000 feet in altitude.
We also went horse riding. I wasn't very comfortable on a horse, but gave it a go, and it was fun to see the kids enjoy the experience. – Goodness, it was tough on the body! I have new found appreciation of horse riders and their skill.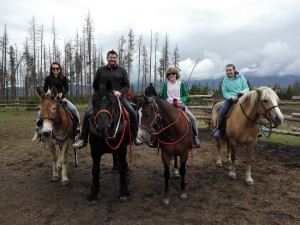 We are staying in this lovely log cabin home. (Air B&B) Kathy and Doug are our hosts, and have been just wonderful making us so welcome. I've made a little video for you in the forrest and in the carpet of native lavender.