Would you believe me if I told you that just a few years ago, I was totally incompetent when it came to technology.

Not only were my skills limited, but I'm almost embarrassed to say, that facing the tasks I had to do online gave me anxiety. I'm talking about simple things like paying bills, or checking emails for work.

I found that I would procrastinate and avoid the computer jobs I had, to avoid feeling incompetent or doing something wrong.

I felt like I might ' break something' or "mess it up" . When I first started to blog, Mike, my husband would come to help me, and say, "How the heck did you do that?"
Argh.. I don't know! I seemed to always be able to get it in a mess! Mike would then unravel the mess and get things back for me, but it made me timid and lacking confidence to try again.

One time when I was a primary school teacher, I bought an online course for Music teachers. This course had workshops from skilled people all around the world. I struggled to log in! It took me a couple of weeks to find the courage to ask for help. Once I did get in, I didn't know how to get around the course and only accessed a small amount of the content available. I didn't join in any of the live coaching calls which would have been so useful to my teaching. I regret that fear limited me.

If you've ever felt like me, I understand you! I know what it feels like to wonder if the question is too silly to ask or to close the computer lid and (if you're like me, go clean something) when faced with a problem.
Honestly friends, if I can overcome this fear and learn how to run online Pilates classes, I'm sure that I can help you participate too!

Here is what some of my clients have said about my live online classes.

"I didn't know if I would be able to sort out the tech, but once I got in, it was great fun" – Kate

" I've loved the online classes! I look forward to them and have even made some new friends from the group class" – Rebecca

" I'm finding it easier every time." Robyn

As the world moves quickly in technology, I realised that I would have to face my fears and just deal with this unfounded fear reaction I always faced with technology.

So, I asked the 'silly' questions, and then asked again when I didn't understand the answers. Sometimes I didn't even have the language to know how to ask. My questions to tech support went something like "You know that thingy that you click …blah… blah..blah…" Arghh! Honestly, I must have sounded like a total fool. But I realised that asking for help and feeling uncomfortable momentarily was just part of moving forward and growing.

I found that by being curious, I was able to approach daunting tasks with more of an ease. I learnt how to ask myself questions. I would say "I wonder why I can't click on this?" Or, " That didn't seems to work, I wonder what I'll do next time?" Or, " What is it I can learn here?"
This is a gentler approach. A way to be kinder to yourself. It makes it more of a lighthearted game rather than a critical self attack situation. Saying to yourself "I'm hopeless" "I'm just useless with this tech," doesn't help and puts a limit on your capacity to find courage and move forward.

You've got this! I know that you can learn tech skills and actually enjoy joining in online. I always make it easy to join my Pilates classes. They are friendly, and enjoyable. The others in the group are just like you. And as you've heard, I will never think less of you if you ask me how to log in! Remember, I've been there! I'm here to help you and give you this safe place to try.

Here are my 5 top tech tips to getting started with online Pilates classes.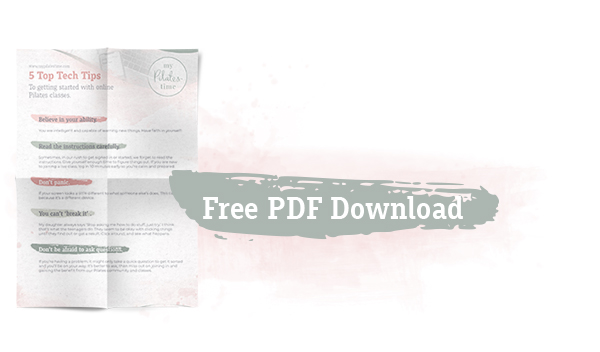 Feel inspired to give Pilates a go? Join me for a live online Pilates class. I'll be there to encourage you and lead you through your moves that will increase your energy and build a strong, healthy body.
Click here for the link to register for the class.
I'll see you then,
Beth
PS… If you are keen to transform your health with Pilates moves you can do at home, you'll love the 6 week 'My Best Shape' course.
You'll gain strength, tone your body, increase your energy and reduce aches and pains. This course is achievable and fun – you'll see results in just a few weeks! Be encouraged, supported and have the tools provided to really make a change and improve your health and impact your entire life.
Registrations are open, and we kick off on the 6th July.