You can create a beautiful space to do Pilates at home. It'll be just as nice as any fancy studio.

Here are my ideas to inspire your Pilates Space at home.

All your props in a nice basket.
As you know, you really don't need lots of props for joining a MyPilatesTime class. But having a few things ready to go and in one place is handy. This is my basket of Pilates props. Use an elastic to tie up your mat. I made mine by sewing a thick piece of elastic into a loop. In the basket I have hand weights, an exercise band and a small Pilates ball.

Find a zone for your Pilates time
Getting away from distractions can be a challenge, especially if you have children, flat mates, a partner and things on your to do list. Many members find doing Pilates with their family a real joy too.
If you can, find a space where you'll be able to focus on your Pilates time. Even if that means turning your mat to face out the door rather than at the dirty dishes in the kitchen sink.

A Physical Cue that's it's Pilates Time
Here is my Pilates space at home.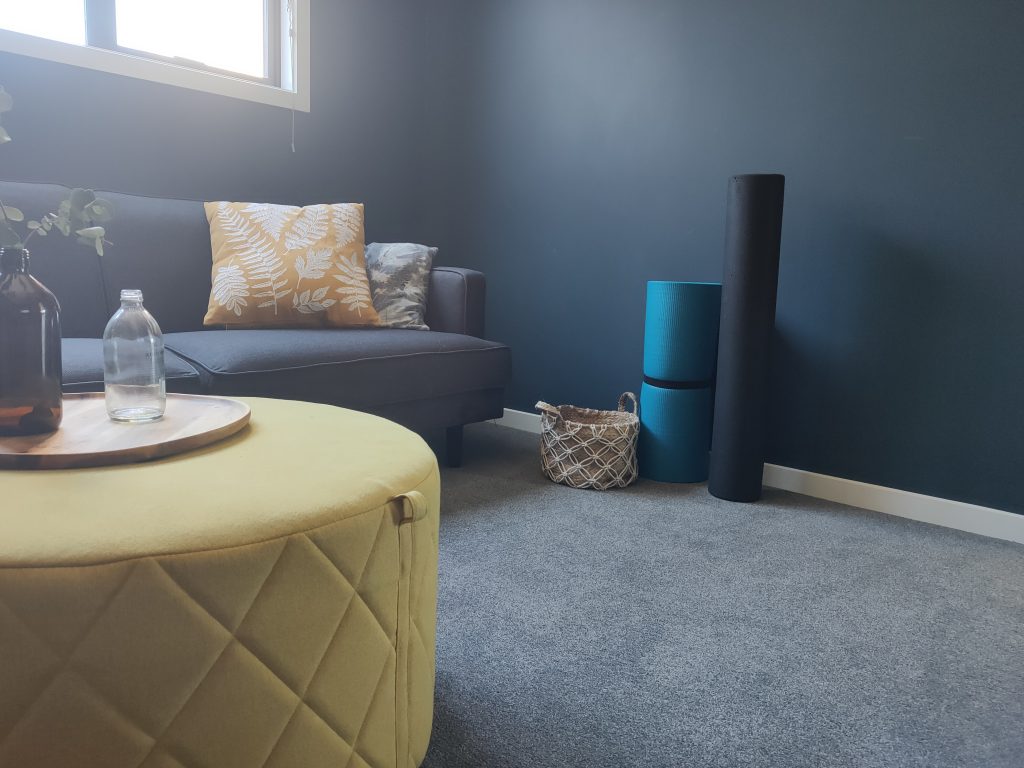 It's only a small space, but I can close the door to help me focus. Sometimes even shutting the door can feel like this is a signal for my mind that it's Pilates time.
Often, if I feel like a stretch in the evening, I will set up in my bedroom. Lighting a candle, putting some essential oils on or dimming the lights is nice. It's a cue for yourself to remember, " I'm here now, ready to move, this is my time".

Use Music
Music has power to change our mood just as movement does! If you need to fire up some momentum or energy, pop on a play list that you know will lift your energy. Try a Pilates class to music. It really is uplifting!
If you are choosing a relaxing stretch class, pop on some zen music to chill you out and help you slow down your nervous system and breathing.

Water Bottle
After a workout, a big drink of water will be so nice. Whether it's a challenging class or a stretchy class. You'll need water to rehydrate and help remove toxins after Pilates. Choose your favourite water bottle, add a squeeze of lemon and have it ready for yourself after the class.

Remember, there are no rules
What I like to do in my home isn't exactly what'll work for you. I think experimenting with different ideas and routines is important. Don't get discouraged if you find something doesn't work out. You'll need to persevere to find the timing and place for your Pilates. And this will change as your family changes, as the seasons change and as you develop your own Pilates flow.
How to set up for a LIVE ONLINE CLASS

In my Pilates Time, we hold 4x live online classes each week. When you set up for a live class, there are a couple of things to consider.
Check out this video for my tips on setting up for a live online class. The first time, you might experiment with a few locations but once you've found the best position for your computer it'll be easy the next time.